So we all know those Cadillac Escalade EXT rims are pretty nice, right? I mean, the nicest car needs the nicest wheel to go with it; so we're going to look at #5409. It belongs to the 2009 Cadillac EXT… obviously.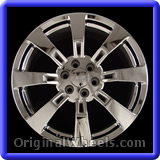 It's 22" x 9" & has a chrome finish. If you're a girl, you can literally do your hair in it; or that's what I would do. It has 8 spokes & can be a little pricey, but is money well spent.
That was our Wheel of the Week (: Stay tuned for next week's wheel!
Here for all of your wheel needs,
Mykalanne.