Typically, all wheels for the Chevy HHR are pretty fancy looking; wouldn't you agree? There's no wheel that's smaller than 16", which means that they're pretty big & look extremely good on the vehicle. My favorite one would probably have to be #5354.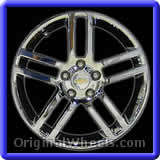 This wheel is chrome, 17" x 6.5", & available on the 2006-2009 model. It's so plain & simple, but yet makes the HHR look so flashy. I think any OEM chrome wheel will literally make any old car look nice.
If you want to see all of the wheel options for this vehicle, you can visit our Chevy HHR wheels part of the site, or our regular OriginalWheels.com home page.
That's our wheel of the week,
Mykalanne.