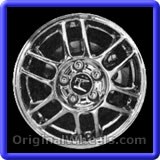 Do you have an Acura CL? Do you wanna know more history about it? Of course you do (:
First, let's get this straight: Acura is a brand from Honda; I bet you didn't know that, huh? It was manufactured from 1997-2003 & was thought of as a replacement for the Acura Legend. What's interesting is that all of the Acura CLs were produced at Honda's plant that's located in Marysville, Ohio; this made it the first Acura to be built in the United States.
There was one really common problem that owners faced with these vehicles: the driver window would fail & would just not even work. The good thing is that there was no major recalls issued for this problem. Another good thing is the 2002 Acura CL wheels that came on the vehicle; I mean, they're pretty nice, right?
Either way, if you didn't know… now you do (:
Sincerely,
Mykalanne.