Production of the Trailblazer started here in the USA in 2002 & ended in 2008 – but in Russia, the production started in 2004 & is still going on .. so if you want a new one, go to Russia (: & bring me a sweater or something.
Anyway, when these cars were somewhat new, I remember my dad & I looking into purchasing the 2003 model. I remember I really wanted him to buy it because I liked the OEM Chevrolet rims that came on it. Now, as I work here & look at the Chevrolet Trailblazer wheels, I think I could've really convinced my dad to buy the car. Oh well.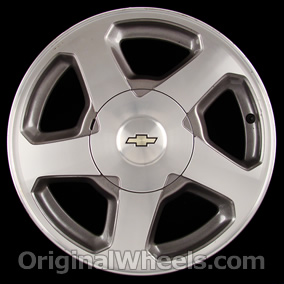 The 2003 Chevrolet Trailblazer rims all kind of have the same finish & are all 5 spoke-wheels. If I were you, I'd probably choose Hollander #5140, only because it's machined & looks shiny when I drive it in the sun… how fun.
Which one would you choose?
Mykalanne.