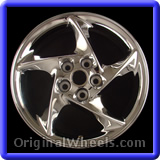 OE chrome rims were meant to make your car look nicer & make it "stand out"; like 2008 Pontiac Grand Prix wheels . The good thing about chrome rims is that any wheel can pretty much be chromed, but of course it's not going to be cheap. If you'd rather just buy them already chromed, here are some tips you should consider: wheel size, pattern, price.
Wheel size: make sure your tire size will fit the chrome rim comfortably.
Pattern: factory original and even aftermarket chrome wheels come in different patterns & makes. Make sure you know what you want & be positive you're going to like the way it looks on your vehicle.
Price: OriginalWheels.com always offers you the best price. If you were to get them at a dealer, there is no way that you're going to be paying less than $500 dollars.
Off to chrome my rims,
Mykalanne.