---
So, you're looking to get a different set of OEM wheels. Since you're on a website that specializes in selling stock rims, I'd say you're off to a good start! Maybe you know exactly what you want; a freshly reconditioned set to replace your current 2007 Dodge Charger factory rims… that sounds nice. Or maybe you've been looking into getting some steel wheels and haven't quite made your decision yet.
Fret not, because we're going to help you figure out what it is that you need so you can make the right choice!
Alloy Wheels
We'll start things off by talking about alloy wheels. As the name implies, alloy wheels are made of aluminum and various other types of metals. When I think of alloy wheels, the first word that comes to mind in flashing letters is STYLE, because the right set of alloys can make your car go from from "meh" to WOW! There are so many styles of alloy wheels. Trust me. Just look at any page of our BMW factory wheels.

From left to right, these are part numbers 71419, 71417, and 71418. And they're all BMW wheels! If there's this much variety from just one manufacturer, imagine the many different styles and finishes you'll encounter between makes like Acura, Ford, and Volvo. I'm sure you know what I'm talking about; you've probably seen a lot of different wheels out on the street. The right style of wheel can complement a car really nicely, adding a lot more aesthetic appeal than if the same car had plain steel rims.
Alloy wheels don't just give your car "style points"; they also weigh less because of the lighter materials they're made of. Alloys can go from about 13″ to 22″ (give or take a couple of inches) in size, whereas steel rims rarely go any higher than 18″. Despite the smaller size, steel rims can still be much heavier. Because alloys are lighter, this can offer better handling and gas mileage for your car.
Of course, there's always a downside – and this could make or break somebody's decision. The deciding factor here is price. Alloy rims are usually much more expensive than steel rims; especially when it comes to luxury brands like Jaguar. There are some OEM Jaguar wheels that cost up to $2000 per wheel! That's the dealership cost, by the way – we always try to beat the dealer price. Not every wheel is going to be THAT expensive, but many alloys are over $150 each on our website.
Due to the lighter weight of alloy wheels, another downside is that they can crack and bend more easily than steel wheels. You'll have to be extra careful when driving over potholes and other road hazards so that you don't damage your alloy wheels. Additionally, certain road and weather conditions could mess up the finish on your alloy wheels; particularly if you have chrome wheels.
Alloy wheels tend to be more delicate, but if you're all about making your car look nice and don't mind the extra cost, then alloy wheels are the way to go for you!
Steel Wheels
Steel is our second option here. These OEM rims are, of course, made of steel. This makes them more durable and heavier in some cases, making them a prime choice for heavy duty or off-road vehicles. If all you're going to be doing is towing or driving through mud and dirt, you don't really need to have nice-looking wheels since they're just going to get dirty anyway.
Steel wheels do have some variations to their appearance, but for the most part, you're going to see rims that look like this: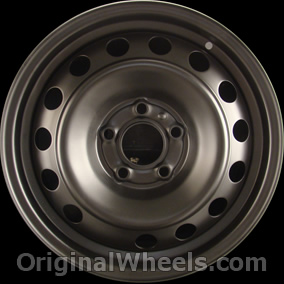 This is part number 74695, a 2015 Kia Soul OEM wheel. A lot of steel wheels will have this same basic look: some holes along the outer part of the wheel , and they tend to come in either black or silver (mostly black).
Steel wheels are often much cheaper than alloys. On our website, we typically list steel rims for about $75-$100. This may not be the price range every single time, but for the most part, steel wheels are going to be the less expensive option.
Steel wheels may not be as flashy-looking as alloys, but you can always put hubcaps or wheel covers over them to brighten up their appearance! If you want reliable, durable wheels for an inexpensive price, then steel wheels are definitely going to be your best choice.
---
When the time comes to choose your stock wheels, are you going to go with alloy or steel? Beautiful rims to accentuate your car's appearance, or rugged wheels to get you through the mud or help you tow? Either one would be a great choice, and we want you to know that whatever you end up choosing in the end, we have you covered!
We hope this helped!
– Kathy
OriginalWheels.com