So, you've just bought yourself some used OEM wheels from our website! They should look immaculate; like-new. Or, maybe you already have some nice rims of your own. Either way, let's do our best to try to maintain that beautiful shine, shall we? In this week's blog, we're going to teach you the methods of properly taking care of your wheels to keep them lasting for as long as they can.
Avoid those potholes!
Before bringing out the soap and water to clean them up, ask yourself if there's anything you can possibly change in your driving habits to help your wheels last longer. Let's talk briefly about potholes. Hopefully, you try to avoid them when you can, or at least drive slowly over them. If not, you risk cracking or bending your rim. The crack could flatten your tires, and you'll have to end up replacing your wheel altogether. The same concept applies when driving over curbs. Driving carefully and slowly around road hazards is a good preventative measure to take when protecting your wheels.
Washing your wheels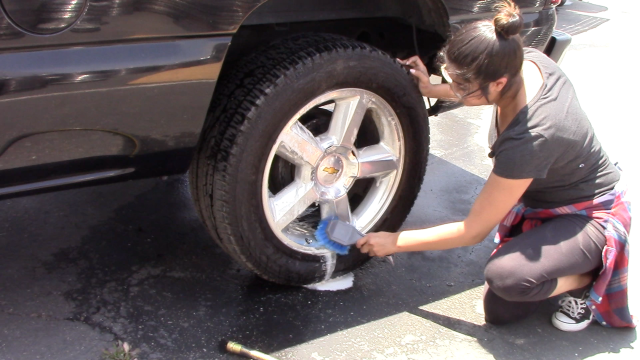 Let's get into the cleaning aspect of wheel care. Not only does regular cleaning keep your rims lookin' nice and shiny, but it also helps protect the finish on them. In last week's blog, we told you that there are several different wheel finishes. Certain finishes – like chrome wheels, for example – require a bit more care because the materials they're made with are more susceptible to corrosion or peeling from certain weather/road elements. Pitting is also an all-too-common thing that happens with chrome wheels, making it imperative that they be well-taken care of.
When you think about it, your wheels really get the short end of the stick, don't they? A lot of alloy rims are super cool-looking with beautiful designs and shiny finishes, but they also fall victim to road and brake dust, mud, and other stuff we drive them through. To get rid of all those contaminators, here are the steps to cleaning your wheels. Try them one wheel at a time:
Rinse your wheel with water.
Using soap and water, scrub your wheel with a car wash sponge, or any kind of soft sponge. Try to avoid using a microfiber cloth while your wheel is still dirty; the dirt particles can get caught within the fibers of the cloth, which could cause scratching on your rims.
 Rinse again.
 Spray some wheel cleaner on your wheel to break up the brake dust that has accumulated.
Rinse again.
Dry your wheel.
 (Optional) If you have some stains or impurities that didn't come off with soap and water, try using a polish to remove them. There are different kinds of polishes, and you can get one that's made specifically for your wheel finish. If you aren't sure what your finish is, or if you're worried about the polish being too harsh, go ahead and choose one that's safe for all finishes – the label will tell you. Because polish does remove a very small amount of the actual finish, this step should only be used when your wheel has extra blemishes or surface scratches that you can't get rid of with the earlier steps.
(Optional) If you do end up polishing your wheels, we highly recommend waxing your wheels in order to protect them from future blemishes and scratches. Even if you skip polishing, it would still be a good idea to wax your wheels.
That's all it takes! Just a little bit of muscle, time, and cleaning supplies will help your rims look like new again. Keep in mind that these are just general steps; you can actually spend as much or little time as you want! For a more thorough clean, you can definitely use more brushes (like a soft paintbrush) in order to get into the crevices of your wheel, such as the lug nut holes. Or, you can just scrub with soap and water and call it a day. Once again, the level of cleanliness you want your wheels to be and the time you're willing to spend are all up to you!
We hope this gave you some insight on the world of wheel care, and remember that if you find yourself needing some immaculate-looking used factory wheels, we're the ones you can turn to!
It's been wheel – I mean real,
– Kathy
OriginalWheels.com