As we all know, Bentley wheels are pretty nice & expensive, right? Too bad we're not looking at one this week. We're going to look at a wheel that's nice enough to put on a Bentley though.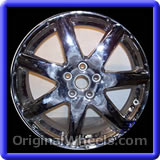 The wheel has the Hollander #6608 & is located on our 2008 & 2009 Chevy Malibu rims page. If you look at it, it looks as if it has a dark shadow chrome finish & simply looks like it should be on an expensive car; thank goodness it's offered on a Chevy. It's factory original aluminum (of course) & runs about $300 – which is completely worth it if you ask me.
Anyway, it's a nice wheel right? I knew you'd agree.
Thanks for reading,
Mykalanne.