Shank vs. Acorn Lug Nuts?
Throughout the years car companies have unfortunately come up with many different styles of lug nuts. As much as us wheel companies wish the manufacturers would keep things simple, that is just not the case. Most vehicles only come with one type of lug nut so it's not too complicated; any OEM wheels for a particular vehicle are going to fit properly using its original lug nuts.
Identifying your lug type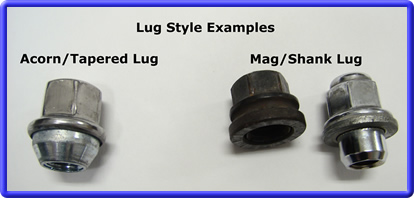 The Exceptions
There are a few companies however that use either acorn(tapered) or shank(mag) style lug nuts depending what factory the vehicle came out of. They made two identical looking wheels designed specifically to fit the corresponding lug nuts. In these cases we have to ask our customers to try and identify which wheels/lugs they have so we can get them the proper rim to fit their existing lug nuts. Why is this important you ask? Proper pairing of lug nuts with wheel design helps to insure a snug fitment, which will give you a smoother ride and keep parts from wearing down prematurely.
OriginalWheels.com
Phone Hours: Monday-Friday 8:00 am to 5:00 pm (Pacific Time)
325 W Main St. Ontario, California 91762 (800) 896-7467 / (909) 606-0555
Our Blog
|
Winter Rims
|
Articles
|
Free Advice
|
Privacy Policy
|
Sitemap