Like-New Factory 1991 Audi 100 Wheels - Used OEM Rims
We provide a Guarantee for every Original Factory wheel to arrive at your doorstep in Pristine condition.
For your convenience, photos have been displayed below depicting the different options of OEM 1991 Audi 100 Rims available for the vehicle as well as whether the Audi Wheels are Aluminum Alloy, or Steel and if they are finished in Chrome, Silver or Machined.
Details have also been included in the images below to help you match your Stock 1991 Audi 100 Wheels exactly to what you need.
Feel free to call us if you have any questions about the Factory Original 1991 Audi 100 Wheels you're looking for.
You will need the size of your Audi 100 Wheels. Just look on the side wall of your tire. - Example = P235/75R15 is a 15" Rim.
Alloy Wheels
Wheel Part Number: OW58666
1989-1991 Audi 100
Size: 15" x 6", 4 Lug, 108mm Bolt Pattern, 45mm Offset
Finish: Silver
OE: 443601025FZ7P
Description: Used 6 Spoke OEM Alloy Wheel
Condition: Like-New


$180 Each
Call To Order
(800) 896-7467
(Without Center Cap)
Wheel Part Number: OW58667
1989-1991 Audi 100
Size: 15" x 6", 4 Lug, 108mm Bolt Pattern, 45mm Offset
Finish: Light Sparkle Silver
OE: 443601025DZ7P
Description: Used Factory Original Alloy Wheels
Condition: Like-New


$180 Each
Call To Order
(800) 896-7467
(Without Center Cap)
Steel Wheels
Wheel Part Number: OW58638
1989-1991 Audi 100
Size: 14" x 5.5", 4 Lug, 108mm Bolt Pattern, 45mm Offset
Finish: Painted
OE: 431601025R
Description: Used Factory Original Steel Rims
Condition: Like-New


$95 Each
Call To Order
(800) 896-7467
(Without Hubcap)
Spare Wheels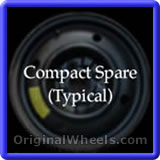 Wheel Part Number: OW58656 (Note: With A.B.S.)
1989-1991 Audi 100
Size: 15" x 4", 4 Lug, 108mm Bolt Pattern, 45mm Offset
Finish: Painted
OE: 893601025D
Description: Used Factory Compact Spare Steel Rim
Condition: Like-New




$95 Each
Call For Availability
(800) 896-7467
For Hubcaps & Center Caps please visit the "Hubcaps" link at the top of this page
Hubcaps.com (800) 826-5880
OriginalWheels.com
Phone Hours: Monday-Friday 8:00 am to 5:00 pm (Pacific Time)
325 W Main St. Ontario, California 91762 (800) 896-7467 / (909) 606-0555
Our Blog
|
Winter Rims
|
Articles
|
Free Advice
|
Privacy Policy
|
Sitemap