Toll Free 1-800-896-7467
Used Honda OEM Wheels & Rims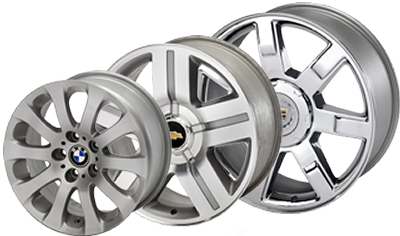 OEM Honda Wheels
Choose your vehicle model to the right to view our selection of OEM Honda wheels.

Pictures will be displayed of all the different Honda factory wheel options made for your vehile.
Buying your wheels is easy. Just click "Order Now" and enter your information to get the purchase of your Honda wheels started.
Save money buying reconditioned Honda rims instead of going to the dealership.
To determine the correct wheel size for your Honda you will need to look on the side wall of your tire. - Example = P235/75R15 is a 15" Rim.
Advantages of Buying Used OEM
Many people don't realize the advantages to using stock Honda wheels instead of switching to cheaper and often "cooler looking" aftermarket parts. One of the biggest advantages is quality. OEM Honda wheels are made from high grade aluminum and tested by the original manufacturer to insure safety, fitment, and durability. Factory Original parts are made to fit your car and will offer you the smoothest ride your vehicle can have.
Purchasing used Honda wheels will save you money without sacrificing the advantages of keeping your car original. It doesn't matter if you are looking for alloy or steel rims, our refinished Honda wheels are guaranteed to match factory finish in color and quality. If you receive a OEM Honda rim that you are not satisfied with we will return or exchange it at no cost you to.
Check out our Operation in this Short Video
Check out our Honda Wheels on YouTube and give us a "Thumbs Up"!
OriginalWheels.com
Phone Hours: Monday-Friday 8:00 am to 5:00 pm (Pacific Time)
5611 Kimball Court Suite B, Chino California 91710 (800) 896-7467 / (909) 606-0555
Our Blog | Winter Rims | Articles | Free Advice | Sitemap